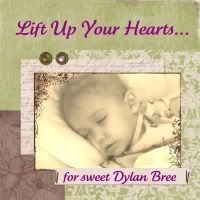 Please say some prayers for Dylan Bree's family today, as she lost her very long battle with cancer and has gone home to be with Jesus.
Her family has held firm to their faith throughout this journey and could use prayers of comfort and peace.
Please
join them
and express your sorrow at their loss.
Cast thy burden upon the Lord, and he shall sustain thee: he shall never suffer the righteous to be moved. ~ Ps 55.22